Contact Us
Contact Lyndsey Farmiloe, Grandaughter of the fishery founder and having over 20 years experience in running the fishery.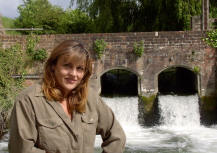 Tel: 023 8081 4389
Mob:07477 790210
E-mail: info@itchen-fishing.net
Lower Itchen Fishery Ltd
The Lodge
Embley Ridge
Gardeners Lane
Romsey
Hampshire
S051 6AD
Our resident river keeper and ghillie is Clayton Moorhouse.
Clayton started fishing at the age of 6, and is a keen salmon and trout fisherman and lover of anything to do with the countryside. He started his working life as a gamekeeper at Baddesley and Preshaw Estate shoot from where he entered service life in the Army where he had a varied career including being a sniper instructor, and ended as training instructor for the TA.
Clayton has acted as ghillie for both trout and salmon fisherman and has ghillied for the prestigious One Fly Competition.
Clayton's contact details are: 07808 494527
Lower Itchen Fishery
Gaters Mill
Mansbridge Road
West End
Southampton
SO18 3HW
Lower Itchen Fishery Registered No. 524207 - Registered in England. Registered Office: 12-14 Carlton Place, Southampton, SO15 2EA