The Grayling Fishing
SEE NOVEMBER 2007 TROUT & SALMON MAGAZINE FOR A FEATURE ARTICLE ON OUR GRAYLING FISHING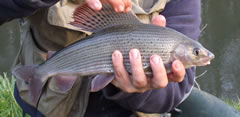 Grayling fishing can be an overlooked but exhilarating sport
with the grayling often referred
to as the "Lady of the River"
The fishery offers excellent grayling fishing during the winter months (from 11th October - 31st January).

In 2001 one in ten of the grayling weighed in at over 2lbs and the best fish was 3lb 1oz.

We are privileged to have been chosen to host the Federation of English Fly fishers, South East Region (for the past 7 years) and the Southern Region from 2001, who have held their Region Rivers Eliminator matches on our water, the winners from which go on to the National Rivers Final from which the England Fly Fishing team are selected. We often have current and ex-world champion fly fishers fishing on our water during the winter months.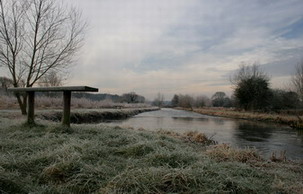 Client testimonials
"The most fantastic day out I have experienced for grayling fishing with the fly on a chalkstream. You can almost guarantee to catch, no matter what the weather."

Baz Reece, England Fly Fishing Team Member & European Silver Medallist
"The fishing is superb. I have had two fish over 3lbs and there are not many places you can do that!"

Clive Collier, ex-England International and Rivers Organiser for the South East Federation
The fishing is offered on a day basis which must be booked in advance by contacting Lyndey on 07477 790210 or on-line via www.fishpal.com
It is also possible to book the top beats exclusively for a party of up to 25 fishermen.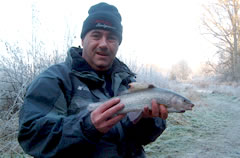 Group bookings for 20-25 rods are available with discounted prices. Ring for details.