News
WE'VE BROKEN OUR SALMON RECORD !
In 2010 we broke our salmon record which had stood since the fishery began in 1953 with a brilliant catch of 267 fish. BUT 2015 saw us break that record again and we ended the season with a fantastic 285 salmon.
Lower Itchen Fishery
2016 saw another excellent salmon season, with a final catch of 261 salmon (all returned). This made the year our 3rd best since the fishery was started in 1953; and the past 6 years has produced no less than 4 of our highest catch numbers:
| | |
| --- | --- |
| Year | Count |
| 2015 | 285 |
| 2010 | 267 |
| 2016 | 261 |
| 2012 | 257 |
In 2016 the catch consisted of 83 salmon (8lb and over) and 178 grilse (under 8lb) - just under 32% salmon to grilse and as a comparison, in 2015 it was 98 salmon and 187 grilse so salmon represented just over 34% of the catch.
The first fish was caught on 26th April (a lovely 16lb hen fish) which was later than the previous year when 9th April saw the first fish in the book.
This year our largest fish was a 22lb fresh cock caught on a nymph.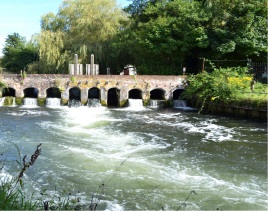 Another good season was had by our trout fishermen with good Mayfly hatches but it was noted that fly life in general seemed to be hatching earlier than in previous years and a lot of the fly life seemed to come at the same time at the beginning of the season: April, May and June with a lack of fly life in July and August. A lot of small wild trout were caught during the season.
There were a large number of sea trout running the river this year, and big ones, with a 10.5lb caught at the end of October and sea trout still running as of January 2017.
It is good to see the number of Redds (both salmon and sea trout) on our stretch of the river and water clarity has been very good even through the winter and into early January 2017 at the time of writing this report.
The coarse fishing in the winter months keeps going from strength to strength with grayling; carp; a few large barble; roach; chub and bream all featuring.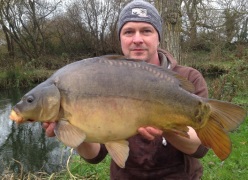 CAUGHT ON CAMERA - TWICE IN ONE YEAR !
In September 2010 Sky Sports spent a day at Lower Itchen Fishery to try their hand at catching a salmon on film.

They succeeded, and the programme was aired on Sky Sports 3 on the programme Tight Lines on 17th September.
A few weeks later and a different crew from Sky TV was down filming the celebrity chef Valentine Warner catching a trout and then cooking up a fish pie which we all got to taste - delicious. This programme "Coast to Coast" will be on TV sometime next year.
2010 - A RECORD BREAKING YEAR FOR THE FISHERY
2010 saw all our previous records for salmon smashed. We ended the season with a catch of 267 salmon, the best year since the fishery and records began in 1954.
See our Salmon page for full details.
The Trout and Salmon Magazine reported in October 2010: Just when you thought it couldn't get any better than six salmon in a day. More...
GIFT VOUCHERS

We offer Gift Vouchers for a days/season's fishing. An ideal present.
Trout & Salmon Magazine article:
See November 2007 issue of Trout & Salmon magazine for a feature article on our Grayling Fishing.
The 2008 Salmon Season our best catch since 1989 with 173 fish.
Some interesting facts about the 2008 season:
First fish caught on the last day of April, although fish were hooked and lost earlier.

Largest salmon - 16lbs 8oz. Largest sea trout - 13lbs 4oz.

Most fish caught on one day : 12

Most fish caught on one day by one angler : 7

25% of fish caught on a nymph.
The COMBO Rod introduced in 2008 proves popular:
A combination of Trout and Salmon fishing on a fortnightly basis on a named day of the week.
The Combo Rod gives a total of: 6 days trout fishing - with 2 guest tickets and 6 days salmon fishing - with 6 guest tickets.
Starting in April you alternate between a days Salmon fishing for 2 people on a salmon beat with your next visit being a days Trout fishing on the trout water.
Refurbishment of old Mill Building:
2008 saw the start of the long needed refurbishment of the last mill building at Gaters Mill. The building was derelict and at the point of collapsing in on itself with rotten floors and supporting beams, a failing roof structure and crumbling brickwork.
The mill building forms part of the entrance to the fishery and its refurbishment will greatly enhance the mill complex.
The project is to completely restore the building, which is believed to be the oldest of all the mill buildings on the site, to provide top quality office accommodation on three floors and giving just over 2,300 sq ft of usable space. Great care has been taken to retain as many of the original features as possible with exposed brick walls and timber beams. The repair of the structure of the building has now been completed with a new roof, new floors, new windows and repaired brickwork.
The office space will be available to lease and anyone interested should, in the first instance, contact Lyndsey Farmiloe on 07477 790210.